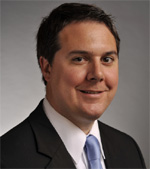 James E. Abbott
Jim is an experienced commercial litigator and trial attorney whose practice includes the representation of professionals and businesses.  He practices in a wide variety of litigation and trial areas, with an emphasis on professional liability defense, product liability defense, and commercial litigation.  He also  defends catastrophic premises and construction injury actions, EEOC and employment discrimination claims, and municipal liability actions.
In Jim's professional liability defense practice, he represents a broad range of health care providers, including physicians, nurses, dentists, hospitals, pharmacies and pharmacists, long term care facilities, nursing homes, and others in the healing arts, in malpractice and regulatory matters.  Jim also defends non-medical professionals, including attorneys, accountants, architects, and engineers in malpractice actions, as well as directors and officers, financial institutions, non-profits, and churches and clergy.  Jim's extensive product liability experience includes the defense of companies named in mass tort litigation, toxic tort matters, asbestos suits, actions alleging injury or death due to hazardous substances, and other actions alleging catastrophic injury or wrongful death.  Jim's commercial liability practice includes the defense  of contract and warranty disputes, first party property claims, consumer fraud claims, Fair Debt Collection Practices Act claims, TCPA claims, and class actions.  He also defends businesses in Section 1983 suits and in employment actions alleging retaliatory discharge, sexual harassment, and disability, race, and age discrimination.
Jim has been selected for inclusion in Illinois Super Lawyers in the area of Civil Litigation Defense (2016, 2017).
Education
Chicago-Kent College of Law, JD, 1998; Chicago-Kent Law Review, member, 1996-1998, Notes & Comments Editor, 1997-1998; judicial extern to the Honorable Milton I. Shadur, 1997; finalist in Intensive Trial Advocacy Competition, 1997
University of Illinois at Urbana-Champaign, BA, 1995; political science
Admissions
Illinois
United States District Courts: Northern District of Illinois, Central District of Illinois, Southern District of Illinois
United States Court of Appeals: Seventh Circuit
Professional Activities
Society of Trial Lawyers (Illinois)
Claims and Litigation Management Alliance (CLM), member
Publications
Defending a "Case Within a Case" Legal Malpractice Action, Best Practices For Defending Professional Liability Claims: Case Studies From Leaders in the Field, ExecSense eBook, January 2013.
"Product Liability Defense: Keys to Success," Inside the Minds, Product Liability Litigation and Dispute Resolution, Aspatore Books, 2007, 7-30
"You Be The Judge," OB-GYN Malpractice Prevention, July 2004, Vol. 11, No. 7, 53-55; case study on defense verdict in Strino v. Lindemulder, 00 L 15138 (tried Dec. 1-11, 2003 in Cook County, IL), which he co-tried; assisted in preparation of case study materials
"The Scope and Substance of Medical Expert Cross Examination," Illinois Bar Journal, Nov. 1998, Vol. 86, No. 11, 612-621, 638; assisted in article preparation while a law clerk
Representative Presentations
"Asbestos Litigation- It is That Bad Penny That Will Not Go Away," Claims & Litigation Management Alliance, Product Liability Seminar, Atlanta GA, May 19, 2016, invited speaker
"Investigating Property Losses", CCMSI, Lisle, IL , June 18, 2015, invited speaker
"Spoliation of Evidence," York Risk Services Group, Chicago, IL, December 17, 2014, invited speaker
"Joint & Several Liability, Contribution, & Assumption of Risk", Cincinnati Insurance Co., DeKalb, IL, December 5. 2012, invited speaker
"Tort Immunities", Travelers, Naperville, IL, 11/8/12, speaker
"Ethics and Good Faith Claims Handling," Broadspire, Schaumburg, IL, Dec. 16, 2009, invited speaker
"Governmental Immunities," Broadspire, Schaumburg, IL, Nov. 4, 2009, invited speaker
"Toxic Tort Case Law Updates," CNA, Chicago, IL, Oct. 17, 2008, invited speaker
"Bullying in the Workplace and Retaliatory Discharge Claims," Employer Resource Institute, Chicago, IL, Oct. 2, 2008, invited speaker
"Premises Liability Case Law Updates," CNA, Syracuse, NY, May 14, 2008, invited speaker
"Dental Malpractice Risk Management Seminar," CNA HealthPro for dental insureds, Chicago, IL, August 11, 2006, invited speaker
Representative Trials and Reported Cases
Panszczyk v. ACDI, et al, 11 L 8216 (tried to verdict June 1-9, 2015 in Cook County, IL)
Penn v. Kerr Corp., 105637/07 (co-tried to verdict June 2-27, 2008 in New York County, NY)
Estate of Bosco v. Orbeta, 02 L 11372 (co-tried to verdict Oct. 2-16, 2006 in Cook County, IL)
Strino v. Lindemulder, 2003 WL 25774914 (Trial Order) (Ill.Cir. Dec 11, 2003) (co-tried to verdict Dec. 1-11, 2003)
Public Building Commission of Chicago v. SWM Ventures, Inc., 01 L 50628 (co-tried to verdict Aug. 27-29, 2002 in Cook County, IL)
General American Life Ins. Co. v. Klatz, 99 C 4635 (co-tried to verdict Apr. 22-May 6, 2002 in U.S. Dist., N.D.Ill.)
David Niebur & Phillip Bue v. Town of Cicero, 98 C 4157 (U.S. Dist., N.D. Ill.)
Nieber and Bue v. Town of Cicero, 136 F.Supp 2d 915 (U.S. Dist., N.D. Ill Mar. 23, 2001)
In re Estate of William Shanan Powless, 315 Ill. App. 3d 859, 734 N.E.2d 111 (5th Dist. IL 2000)