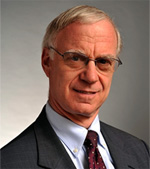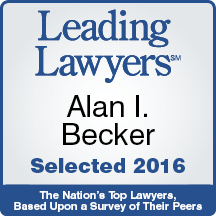 Alan I. Becker
Alan has an extensive background in business litigation, antitrust, securities litigation, banking litigation, financial regulation, commercial litigation, and food, drug, and medical device law. Currently, his practice focuses on insurance coverage, particularly relating to D&O and E&O insurance for professionals and investment firms, and complex commercial litigation including the defense of executives, attorneys, insurance agents, real estate brokers and other professionals in professional liability, business and employment matters. From 1992 to 2002, Alan served as general counsel and Vice President of Legal and Regulatory Affairs for Nobel Biocare USA, Inc., the U.S. subsidiary of the world's leader in dental implants, and he currently serves as a consultant regarding legal, regulatory, and intellectual property matters relating to dental implants and other medical devices.
For more than twenty years, Alan has served as a certified chairperson-arbitrator in the Mandatory Arbitration Program of the Circuit Court of Cook County. He has spoken at conferences of the Regulatory Affairs Professionals Society and the American Academy of Implant Dentistry and has been a featured guest on Sky Radio. Alan has been included by his peers in Illinois Super Lawyers every year since 2005 as well as being listed by the Leading Lawyer Network in the fields of commercial litigation, insurance law, and product liability defense. He is also rated as an AV® Preeminent™ lawyer by Martindale-Hubbell, representing the recognition of the highest level of professional excellence by his peers. He was a contributor to the ABA monograph on the Robinson-Patman Act.
Alan has served as the Managing Partner of Litchfield Cavo LLP since the Firm's inception in 1998.
Alan was recently named a Life Director of Lifelink Corporation, a non-profit organization that provides low-cost housing for older adults and physically-challenged persons, after having served over nineteen years on the Lifelink board of directors, including as chairman. He has also previously served as chairman of the Board of Elders, the Mission Board, the Board of Trustees and the Board of Christian Education as well as Moderator of The Union Church of Hinsdale (UCC). A Shakespeare buff, he is President of the Board of Trustees for First Folio Theatre. He is a member of the Economic Club of Chicago and Pi Kappa Alpha fraternity.
Education
Yale Law School, LLB, 1970; Director of the Moot Court, Finalist in Moot Court and Barristers Union (mock trial) competitions
Cornell University, BA, cum laude with distinction in all subjects, 1967; Phi Beta Kappa, Phi Kappa Phi
Admissions
Illinois
United States District Courts: Northern District of Illinois, Northern District of California, District of North Dakota, District of Connecticut
United States Courts of Appeal: Fifth Circuit, Seventh Circuit, Ninth Circuit, Federal Circuit
United States Supreme Court
Professional Activities
Defense Research Institute
Chicago Bar Association
Chicago-Lincoln Inns of Court
Representative Reported Cases
Hoover v. Country Mutual Insurance Company, et al.,
Gredell v. Wyeth Laboratories, Inc., 367 Ill. App. 3d 287 (1st Dist. 2006)
Citizen Offset, Inc. v. Web Press Corp., 22 F.3d 1094 (5th Cir. 1994)
Core-Vent Corp. v. Nobel Industries AB, 11 F.3d 1482 (9th Cir. 1993)
Johnston v. Bumba, 764 F.Supp. 1263 (N.D. Ill. 1991), affd., 983 F.2d 1072 (7th Cir. 1992)
Hickory Creek Nursery, Inc. v. Johnston, 167 Ill.App.3d 449 (3d Dist. 1988)
Fontana Aviation, Inc. v. The Cessna Aircraft Co., 617 F.2d 478 (7th Cir. 1980)
Fisher v. First National Bank of Chicago, 538 F.2d 1284 (7th Cir. 1976)
Chemetron Corp. v. McLouth Steel Corp., 522 F.2d 469 (7th Cir. 1975)