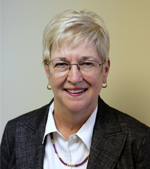 Carrie A. Durkin
Carrie's practice draws on an extensive background in commercial litigation involving banking, labor and employment, antitrust, securities, insurance coverage, real estate, E&O/D&O, business torts, construction defect, bankruptcy, and products liability. She represents corporate and individual defendants in personal injury lawsuits. She also represents numerous not-for-profit associations in corporate matters and litigation.
Carrie served as law clerk to Justice John C. Stamos. She also served as Senior Litigation Counsel for Aon Corporation, where she appeared as lead counsel in over twenty jurisdictions, litigating broker error and omission, director and officer liability, construction defect, business tort, employment practices, and adversary bankruptcy actions.
Carrie has been designated by her peers as a Leading Lawyer in the fields of commercial litigation and insurance defense. She is also has been rated an AV® Preeminent™ lawyer by Martindale-Hubbell, representing the recognition of the highest level of professional excellence. She was recently elected to The Fellows of the American Bar Association in recognition of her outstanding dedication to the welfare of the community, the traditions of the profession, and the advancement of the objectives of the American Bar Association. She has published and lectured on bankruptcy, contract administration, expert witnesses, risk management, employment practice, and association management.
Carrie has served as the First Vice-President of the Greater Chicago and Northwest Indiana Girl Scout Council, the largest Girl Scout council in the world. She has also served as a board member and officer of the Crossroads and Prairie Girl Scout Councils. Carrie founded and chaired The Fairway Network, a networking golf association for professional women in Chicago and was named Chicago Top Flite Woman of the Year for 1995. She has also been honored by the Crossroads Council of Girl Scouts as a Woman of Achievement.
Education
Chicago-Kent School of Law, JD, 1979; with highest honors
Colby College, BA, 1971; comprehensive honors
Admissions
Illinois
United States District Courts: Northern District of Illinois, Southern District of Illinois, Central District of Illinois, Eastern District of Michigan, Eastern District of Wisconsin
United States Courts of Appeal: Seventh Circuit, Eighth Circuit
Representative Reported Cases
River Plaza Homeowner's Ass'n v. Healey, et al., 389 Ill. App. 3d 268 (1st Dist. 2009)
Recio v. GR-MHA Corp., 366 Ill. App. 3d 48 (1st Dist. 2006)
Bergstrom, Inc. v. Siemens Elec., Ltd., 208 F.R.D. 234 (N.D. Ill. 2002)
Fenner v. Favorite Brand Int'l., Inc., 25 F. Supp. 2d 870 (N.D. Ill. 1998)
Landry v. Keene Corp., 811 F. Supp. 367 (N.D. Ill. 1993)
Inryco, Inc. v. Multuloc Corp., 202 Ill. App. 3d 367 (1st Dist. 1990)
Associates Financial Services Co., Inc. v. Mercantile, 727 F. Supp. 371 (N.D. Ill. 1989)
Kansas Turnpike Auth. v. Wheeler, 243 Kan. 602 (1988)