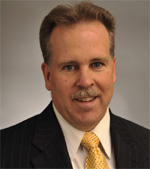 Christopher A. McLaughlin
The broad spectrum of Chris' practice areas have included general negligence, products liability, labor law, premises liability, legal malpractice, property damage, construction defect, business litigation and automobile/trucking liability as well as appellate practice. He has worked with both carriers and companies in drafting effective leases, construction contracts, and service agreements to assist in indemnification issues and insurance procurement problems. He has tried many cases to verdict, written and argued numerous appeals, and participated in both mediations and arbitrations.
Chris is active in his local community and enjoys golf, boating, and fishing.
Education
Albany Law School, JD, 1987
State University of New York at Geneseo, BA, 1984; history
Admissions
New York
United States District Courts: Southern District of New York, Eastern District of New York
Professional Activities
New York State Bar Association
Representative Reported Cases
European Granite and Marble v. McNaughton, 102 A.D.3d 732, 958 N.Y.S. 2d 715 (Second Department, 2013)
Venuto v. RCS Electronic Equipment Corporation, 5 A.D. 3d 672, 774 N.Y.S. 2d 729 (Second Department, 2004)
Kamerman v. Kolt, 210 A.D. 2d 454, 621 N.Y.S. 2d 97 (Second Department, 1994)
Festa v. Waskawic, 181 A.D. 2d 758, 581 N.Y.S. 2d 251 (Second Department, 1992)