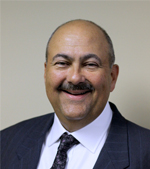 Daniel G. Litchfield
Dan focuses his practice on insurance coverage and extra-contractual liability counseling, ADR, litigation, trials and appeals. He has also been extensively involved in defending class action cases. Over the course of his career, he has handled a wide variety of civil cases, including construction defect, business tort, antitrust, and employment discrimination cases. From 1989 to 1998, Dan specialized in insurance environmental coverage issues and worked on some of the largest such cases, including Goodyear, Ford, and Sara Lee. In 1998 he became one of the founding partners of Litchfield Cavo LLP, and he serves as a member of the Firm's executive committee.
Dan began his career working on antitrust, Truth in Lending Act cases, and commercial litigation. He then transitioned into Superfund litigation and some food, drug, and medical device litigation before concentrating on his current focus, complex insurance coverage analyses and litigation. He also has extensive experience in bad faith and extra-contractual litigation. Dan has handled state or federal cases in 24 states. He is rated as an AV® Preeminent™ lawyer by Martindale-Hubbell, representing the recognition of the highest level of professional excellence by his peers.
In 2014, Dan was profiled by Leading Lawyers Magazine--Business Edition; the profile may be read here.
Education
The University of Chicago School of Law, JD, 1983
Drake University, BA, 1980; summa cum laude, Phi Beta Kappa, Mortar Board, Gamma Gamma, Omicron Delta Kappa, first alternate from Iowa for Harry S. Truman Scholarship
Admissions
Illinois
Pennsylvania
United States District Courts: Northern District of Illinois, Central District of Illinois, Southern District of Illinois, Western District of Michigan, District of Colorado, District of Nebraska, Eastern District of Wisconsin, Western District of Wisconsin
United States Courts of Appeal: Seventh Circuit, Eighth Circuit, Federal Circuit
Publications
"Property Damage Update: Pollution Exclusion," Coverage, Volume 9, Number 2, March/April,1999
"Corporate Relationships and Coverage," Coverage, Volume 8, Number 6, November/December, 1998
"The Polluters' Web: The Pollution Exclusion and the Question of Deception," CPCU Journal (Chartered Property Casualty Underwriters), June 1994
Professional Activities
American Bar Association
Chicago Bar Association
Federation of Defense and Corporate Counsel
Defense Research Institute
Illinois Association of Defense Counsel
Council on Litigation Management
American College of Coverage and Extracontractual Counsel, Fellow
Representative Reported Cases
Houseman Construction Company v. The Cincinnati Insurance Company, Slip Copy, 2010 WL 1658959, W. D. Mich., April 23, 2010
Spirco Environmental, Inc. v. American Intern. Specialty Lines Ins. Co., 555 F.3d 637, 2009 WL 233873, C.A.8 (Mo.), February 3, 2009
Kootenia Homes, Inc. v. Federated Mut. Ins. Co., 2006 WL 224162, Minn.App. January 31, 2006
Cincinnati Insurance Co. v. Eastern Atlantic Ins. Co., 260 F.3d 742, 2001 WL 869365, (7th Cir. 2001)
Hartford Casualty Ins. Co. v. Benchmark, Inc./Taylor Associates, Inc., 1999 WL 33656877, (N.D. Iowa, November 9, 1999)
Goodyear Tire & Rubber Co. v. Aetna Cas. And Surety Co., 1995 WL 422733, (Ohio App. 9 Dist., July 12, 1995)
Farmer City Community Health Foundation, Inc. v. Cincinnati Ins. Co., 1994 WL 394914 C.D.Ill.,1994
Walgreen Co. v. Selcke, 230 Ill.App.3d 442, 595 N.E.2d 89, 172 Ill. Dec. 26, 1992 WL 109983, (Ill.App. 1st Dist. 1992)
A.Y. McDonald Industries, Inc. v. Insurance Co. of North America, 475 N.W.2d 607 Iowa,1991
Aetna Cas. & Sur. Co. of Hartford, Connecticut v. Kerr-McGee Chemical Corp., 875 F.2d 1252, 1989 WL 54812, 29 ERC 1680, (7th Cir. 1989)
Edward Hines Lumber Co. v. Vulcan Materials Co., 669 F.Supp. 854, 26 ERC 1662 (N.D Ill. 1987)