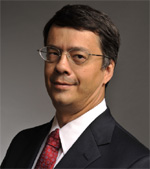 James R. Branit
Jim concentrates his practice in appeals, civil and commercial trial litigation, and insurance coverage. He has successfully handled over 150 appeals in various state and federal courts. He also has over 28 years of experience as a trial attorney. Jim has been rated an AV® Preeminent Lawyer by Martindale-Hubbell, representing the recognition of the highest level of professional excellence by his peers.
Jim defends businesses and individuals against complex bodily injury and property damage claims, including:
Professional Liability (including lawyers, accountants, architects, churches and clergy, engineers, financial institutions, educators and school boards, contractors, construction managers, insurance agents and brokers, directors and officers, debt collectors, and real estate inspectors)
Premises Liability (including residences, offices, stores, businesses, schools, public accommodations such as hotels and restaurants, banks, credit unions, and industry)
Products Liability (including consumer products, industrial equipment, and construction machinery)
Toxic Tort (including exposure to asbestos, benzene, chemicals, diacetyl, lead, welding fumes, and adiation)
Construction Defect, Warranty and Contract Disputes (including residential, commercial, industrial)
Construction Injury
Employment Liability (including all forms of discrimination, ERISA, breach of contract, wrongful termination, retaliation, wage and commission claims)
Class Actions
Trucking Liability
In addition, Jim has extensive trial and appellate experience in commercial and business litigation, including contract disputes, defamation, trade secrets, intellectual property, trademark, copyright, patent, cyber liability, and unfair competition.
Jim defends banks and credit unions against a broad range of lawsuits as well, including as just a few examples federal and state statutory actions, lender liability, Fair Debt Collection Practices, UCC, employer liability, cyber liability, and general liability claims. He also defends an international construction company against toxic tort litigation in Illinois and Missouri. In addition, Jim advises an international restaurant corporation regarding contract and insurance matters.
Knowing that defending civil and commercial litigation in the best possible manner requires an extensive knowledge of insurance coverage law, Jim also provides coverage opinions and litigates declaratory judgment actions on complex issues of policy interpretation, including in the coverage areas of environmental, general liability, professional liability, personal/advertising injury, bad faith, construction defect, excess and umbrella, additional insured, first-party property, business risk, and cargo liability.
For medical malpractice cases in which an appeal is likely, Jim's considerable appellate experience provides a significant advantage in trial preparation and trial to make sure all issues and objections are preserved for appeal. He has prepared numerous post-judgment motions and appellate briefs in medical malpractice cases, winning the vast majority of such motions and appeals.
Jim served as a judicial law clerk for Chief Justice Thomas J. Moran of the Illinois Supreme Court, and for the Honorable Jack B. Schmetterer of the United States Bankruptcy Court.
Education
Illinois Institute of Technology/Chicago-Kent College of Law, JD, 1985, high honors; BA, 1983, high honors (combined degree)
Admissions
Illinois
United States District Courts: Northern District of Illinois, Central District of Illinois, Northern District of Indiana, Southern District of Indiana, Eastern District of Wisconsin
United States Courts of Appeal: Seventh Circuit, Eighth Circuit, Eleventh Circuit
United States Supreme Court
Publications
"Reconciling Free Speech and Equality: What Justifies Censorship?" 9 Harvard Journal of Law and Public Policy 429 (1986)
Representative Reported Cases
South Shore Baseball, LLC v. DeJesus, 982 N.E.2d 1076 (Ind.Ct.App. 2013)
Mockbee v. Humphrey Manlift Co., Inc., 2012 IL App (1st) 093189, 973 N.E.2d 376 (1st Dist. 2012)
Lazenby v. Mark's Construction, Inc., 236 Ill.2d 83, 923 N.E.2d 735, 337 Ill.Dec. 884 (2010)
Grey Direct, Inc. v. Erie Ins. Exchange, 460 F.3d 895 (7th Cir. 2006)
Dal Pozzo v. Basic Machine Company, Incorporated, 463 F.3d 609 (2006)
AAA Disposal Systems, Inc. v. Aetna Cas. & Sur. Co., 355 Ill.App.3d 275 (2005)
Barnard v. Saturn Corp., 790 N.E.2d 1023 (Ind.Ct.App. 2003)
Los Amigos Supermarket, Inc. v. Metropolitan Bank and Trust Company, 306 Ill.App.3d 115, 713 N.E.2d 686, 239 Ill. Dec. 155 (1999)
Missouri Pacific Railroad Co. v. International Ins. Co., 288 Ill.App.3d 69 (1997)
Matei v. Cessna Aircraft Co., 35 F.3d 1142 ( 7th Cir. 1994)
Chrysler v. Darnall, 238 Ill.App.3d 673 (1992)