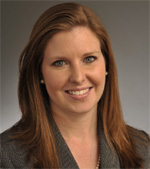 Kathleen F. Adams
Kate focuses her practice on insurance coverage litigation, insurance coverage analysis, and insurance defense litigation in both trial and appellate matters. She also has significant experience in commercial litigation, employment, executive and professional liability matters, fair debt litigation, first party property claims, extra-contractual claims, including bad faith, toxic tort litigation, and appellate practice.
Prior to joining Litchfield Cavo LLP, she served as a legal research clerk for the Connecticut Superior Court. While in law school, Kate served as the Articles Editor for the Connecticut Journal of Law. She received a CALI (Computer-Assisted Legal Instruction) award for Excellence in Globalization and the Environment. In addition, she served as a professor's assistant in Legal Profession, the writing and research course for first-year students.
Kate is on the Board of Directors of Gifts of Love in Avon, Connecticut, a local charity devoted to providing basic necessities to the working poor in the central Connecticut area. Kate was formerly an assistant editor for the FETTI (National Forum for Environmental & Toxic Tort Issues) newsletter and previously volunteered for the Center for Children's Advocacy.
Education
University of Connecticut School of Law, JD, 2005; with honors
Boston College, BA, 2002; magna cum laude, with honors
Admissions
Connecticut
United States District Court: District of Connecticut
United States Court of Appeals: Second Circuit
Representative Reported Cases
Atl. Cas. Ins. Co. v. Robinson, 2016 WL 3198204 (D. Conn. June 8, 2016)
Mehta v. Ace Am. Ins. Co., 2015 WL 1456834 (D. Conn. Mar. 30, 2015)
Middlesex Mut Assur. Co. v. Hamilton, et al., 2014 WL 2696773 (Conn. Super. Ct. May 14, 2014)
Gartner, Inc. v. St. Paul Fire & Marine Ins. Co., 2010 WL 918075 (D. Conn. Mar. 11, 2010) aff'd, 415 F. App'x 282 (2d Cir. 2011)
S. v. Webb, 602 F.Supp.2d 374 (D. Conn. 2009)
Deed v. Walgreen Co., 50 Conn. Supp. 339, 927 A.2d 1001 (2007)