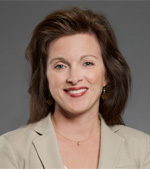 Kim has represented clients in complex litigation and appellate matters for over 20 years. She has broad experience handling declaratory judgment actions, defending bad faith and extra-contractual claims, and analyzing complex contractual issues. She also assists her insurance clients by drafting coverage opinions, reservations of rights, and denial letters. She has defended first-party and third-party claims in cases involving commercial general liability, property, auto, homeowners, and professional liability policies. She has particular familiarity with the construction and trucking industries.
In each representation, Kim skillfully frames and persuasively argues the complicated issues and positions that her clients seek to communicate, in a manner that is easy to understand for judges and juries alike. Not only is that effort critical to the successful representation of her clients at trial and on appeal, it has been responsible for the development of favorable case law positively affecting the insurance industry: in a recent lawsuit, a Texas appellate court expressly approved a jury charge Kim drafted in a Hurricane Ike case on an issue not previously addressed by the Texas Pattern Jury Charges.
Kim has handled civil appeals across the state and in the Fifth Circuit Court of Appeals. She utilizes her expertise in insurance coverage and insurance defense litigation and her degree in English to prosecute her client's appeals successfully. Kim has written more than seventy-five appellate briefs during her career in a wide variety of practice areas.
Away from the office, Kim is deeply committed to enhancing her community. She served as a board member of The Children's Fund in Houston. She participates in the National Charity League with her daughter and volunteers for various committees and projects at her kids' schools, including a Spring Branch I.S.D. Campus Improvement Team, Booster Club and Dance Club.