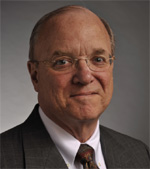 Matthew J. Iverson
Matt had an extensive background in accounting malpractice litigation, legal malpractice litigation, complex commercial litigation including executive, professional and employers liability defense, construction litigation, product liability litigation involving medical devices, and other miscellaneous tort and contract litigation. He tried cases to verdict in state and federal courts in a number of states. Matt was a founding partner of Litchfield Cavo LLP at the Firm's inception in 1998.
Matt was been active throughout his career in continuing professional education. He lectured on various legal and accounting topics at continuing legal education seminars sponsored by the Chicago Bar Association, the Illinois State Bar Association, the American Institute of Certified Public Accountants, and the Illinois Society of Certified Public Accountants. Among other projects, he authored and played the defense lawyer in a training film consisting of a mock accounting malpractice trial that was made for and distributed by the American Institute of Certified Public Accountants. He also lectured on various legal topics at other professional organizations including the Regulatory Affairs Professionals Society. He authored an article that appeared in the May 2009 issue of the magazine "For the Defense" published by the Defense Research Institute; the article is entitled "The Accountant's Going Concern Evaluation: Malpractice Exposure in this Era of Economic Uncertainty." For a number of years, Matt was been named an AV® Preeminent™ lawyer by Martindale-Hubbell, representing the recognition of the highest level of professional excellence by his peers. He was also named for several years by his peers as a member of the Leading Lawyer Network, a recognition earned by less than 5 percent of lawyers practicing in the state of Illinois.
Matt has also been active in the Union League Club of Chicago and has served on its Board of Directors and as Chairman of its Public Affairs Committee. He has served as President of the Civic & Arts Foundation of the Union League Club. Matt has also been active in a number of other non-profit civic organizations. In addition, he served as a member of the Board of Directors of the Illinois Campaign for Political Reform.
Education
University of Wisconsin Law School, LLB, 1964; Editor-in-Chief of the Wisconsin Law Review; Order of the Coif.
University of Wisconsin, BA, 1960; Phi Beta Kappa, Beta Gamma Sigma, Phi Kappa Phi
Admissions
Illinois
United States District Courts: Northern District of Illinois; Eastern District of Wisconsin; District of Kansas
United States Court of Appeals: Seventh Circuit, Eighth Circuit, Tenth Circuit
United States Tax Court
United States Supreme Court
Professional Activities
Chicago Bar Association; served in various capacities including as the General Chairman of the Judicial Evaluation Committee, Chairman of the Continuing Legal Education Committee, and as a member of the Board of Managers
Illinois State Bar Association
American Bar Association
Illinois Lawyers' Assistance Program; past President and member of the Board of Directors
Defense Research Institute
Chicago-Lincoln Inns of Court
Representative Reported Cases
Brillion Iron Works, Inc. v. ConAgra, Inc., 322 Ill.App.3d 1039, 798 N.E.2d 421 (1st Dist. 2001)
Juanita E. Foster v. Arthur Andersen, LLP, 168 F.3d 1029 (7th Cir. 1999)
National Association of Realtors v. National Real Estate Association, Inc. 894 F.2d 937 (7th Cir. 1990)
Betty Dockter v. Rudolf Wolff Futures, Inc., 813 F.2d 456 (7th Cir. 1990)
Behagen v. Amateur Basketball Ass'n of U.S., 884 F.2d 524 (10th Cir. 1989), cert. den., 495 U.S. 918
The Purdy Company of Illinois v. United States of America, 814 F.2d 1183 (7th Cir. 1987)
Island Lake Water Company v. LaSalle Development Corporation, 143 Ill.App. 3d 310, 493 N.E.2d 44 (2nd Dist. 1986)
Central Wisconsin Bankshares, Inc. v. Board of Governors of the Federal Reserve System, 583 F.2d 294 (7th Cir. 1978)