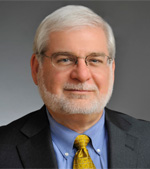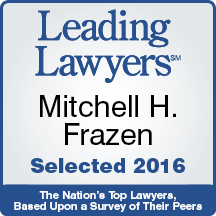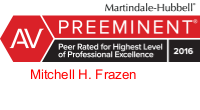 Mitchell H. Frazen
With more than thirty-seven years of litigation experience in state and federal courts, Mitch has defended actions involving personal injury and other torts, construction injury and defects, products liability, premises liability, professional liability, insurance coverage, and other contract disputes. Currently, Mitch's practice focuses on the defense of complex, multi-party actions involving wrongful death and catastrophic personal injuries in the Circuit Court of Cook County, Illinois. He has tried jury cases to verdict in eight different state and federal courts, and has argued appeals before the Illinois Supreme Court and two United States Courts of Appeals. Mitch is one of the founding partners of Litchfield Cavo LLP, and he served on its Executive Committee from the Firm's inception in 1998 to 2010. He presently serves as general counsel to the Firm.
A proponent of alternative dispute resolution, Mitch participated in court-sponsored and private mediations of more than three hundred civil actions in the Circuit Court of Cook County and throughout the United States. Mitch accepts pro bono assignments in civil matters in the local District Court as a member of its trial bar, and in civil appeals as a volunteer member of the Seventh Circuit Court of Appeal's panel of appointed counsel.
In 2005 and each year since, Mitch has been listed as a Leading Lawyer in the fields of insurance defense and insurance coverage, a designation representing the top five percent of all lawyers in Illinois based on a statewide survey of his peers. He has been included each year since 2006 in the annual listing of Illinois Super Lawyers, in the practice areas of Civil Litigation Defense, Personal Injury Defense, and Insurance Coverage. Mitch was included in the 2012 and 2013 editions of Chicago's Top Rated Lawyers, a listing of local attorneys rated as "AV-Preeminent," the highest rating for competence and ethical conduct by Martindale-Hubbell Lawyer Ratings, in the practice areas of Litigation, Personal Injury, and Commercial Litigation.
Mitch is a founding board member of his Dunhaven Woods South of Palatine neighborhood homeowners' association. In 2008, he represented his neighbors in their successful effort to prevent the peacocks that live in their neighborhood from being declared a nuisance and impounded by the Village of Palatine. He also served as legal counsel to Green Pup Shelter, Inc., the not-for-profit no-kill dog shelter of which his wife was a founding board member.
Education
University of Michigan Law School, JD, 1980; Order of the Coif
University of Illinois at Urbana-Champaign, BS, 1977; magna cum laude with departmental distinction in Political Science, Phi Beta Kappa, University Bronze Tablet Award
Admissions
Illinois
United States District Courts: Northern District of Illinois, Central District of Illinois, Northern District of Indiana, Eastern District of Wisconsin, Eastern District of Michigan
United States Courts of Appeal: Seventh Circuit, Eighth Circuit
Professional Activities
American Bar Association: Section of Litigation, including Insurance Coverage Committee; Section of Tort and Insurance Practice, including Insurance Coverage Committee
Chicago Council of Lawyers: Board of Governors, Co-Chair, State Court Practices Committee, 1992-94; Judicial Evaluation Committee Investigator, 1995 to present
Chicago Bar Association: Joint Bar Association Judicial Evaluation Committee
Publications and Presentations
"Mastering Section 2-615 Motions to Dismiss," Panel Member for the Chicago Bar Association Young Lawyers Section annual seminar, October 20, 2009
"Targeted Tender to One Insurer Bars Contribution by a Co-Insurer," Illinois Insurance Law Update -- February 2000 for distribution to clients of Litchfield Cavo LLP
"Insured-Insurer Conflicts of Interest -- Illinois Case Materials," for "Illinois Insurance Law" Continuing Legal Education Annual Seminars, sponsored by Lorman Business Centers, Inc., May 1994 and May 1995
"Anatomy of Historic Salmonella Litigation: For the Defense," co-author with Frank K. Mandelbaum, Chicago Daily Law Bulletin, 29th Annual Law Day Special Issue, April 25, 1987
Representative Reported Cases
South Shore Baseball, LLC v. DeJesus, 11 N.E.3d 903 (Ind. 2014)
Mockbee v. Humphrey Manlift Co., 2012 IL App (1st) 093189, 973 N.E.2d 376 (1st Dist. 2012)
Stephen Wartalski v. JSB Construction and Consulting Company and JMS Electric, Inc., 384 Ill.App.3d, 892 N.E.2d 122 (1st Dist. 2008)
Home Insurance Company v. Cincinnati Insurance Company, 213 Ill.2d 307, 821 N.E. 2d 269 (2004)
Travelers Indemnity Company v. American Casualty Company, 337 Ill. App.3d 435, 786 N.E.2d 582 (1st Dist. 2003)
Grove Fresh Distributors, Inc. v. New England Apple Products Co., Inc., 969 F.2d 552 (7th. Cir. 1992)
In re Salmonella Litigation, 198 Ill. App.3d 809, 556 N.E. 2d 593 (1st Dist. 1990)
Apogee Enterprises, Inc. v. Hans Rosenow Roofing Co., Inc., 1986 WL 15883 (N.D. Ill., Mar. 11, 1986)