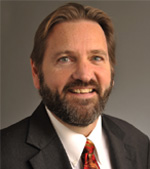 Paul G. Roche
Paul focuses his practice on all types of coverage, and has significant experience in large, complex environmental coverage cases, such as those involving waste sites, asbestos, and hearing loss. He has also worked on cases involving government contracts, securities brokers, employee contracts (involving covenants not to compete), executive, professional and employers liability defense, defamation, and Workers' Compensation. In addition, he has acted as an arbitrator in insurance coverage disputes.
Paul has been a member of the Planning Commission of Harwinton, Connecticut, since 2007. Previously he served as Vice-President and Legal Counsel for a major Maryland conservation and Chesapeake Bay preservation organization, South Arundel Citizens for Responsible Development. Earlier in his career, Paul also did extensive pro bono work for the International Campaign for Tibet in Washington, D.C.
Prior to law school, Paul co-owned a business that exported hand-made Tibetan carpets from Nepal. During that time, Paul and his business partner started a restaurant for a local Tibetan refugee family that still provides a living for that family today.
Education
Georgetown University Law Center, JD, 1989
University of Connecticut, BA, 1982; magna cum laude, psychology, Phi Beta Kappa
Experiment in International Living/School for International Training, Nepal Semester, Fall 1981
Admissions
Connecticut
New York
District of Columbia
United States District Courts: District of Connecticut, District of Columbia
United States Court of Appeals: Second Circuit
Publications
Insurance Coverage chapter, Madden & Owen on Products Liability Law, 3d ed. (West Group, 2000); co-author
"Countries Strengthen Insider Trading Laws, G-7 Nations Emulate The United States in Fashioning Laws and Enforcing Existing Regulations," The National Law Journal, Vol. 18, No. 11 (Nov. 13, 1995); co-author
Representative Reported Cases
Geico Indem. Co. v. Gaylord, 2014 WL 4494729 (Conn. Super. Ct. Aug. 6, 2014)
Ridley v. Nat'l Union Fire Ins. Co. of Pittsburgh, PA, 2014 WL 3687739 (D. Conn. July 22, 2014)
Misiti, LLC v. Travelers Prop. Cas. Co. of Am., 308 Conn. 146, 61 A.3d 485 (2013)
National Waste Associates, LLC v. Travelers Casualty and Surety Co. of America, 294 Conn. 511 (2010)
Gupta v. Great Northern Insurance Co., 2009 WL 291011 (D. Conn. 2009)