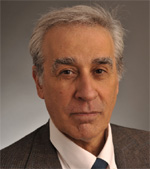 Robert L. Ciociola
Bob's practice concentrates on insurance coverage and complex business litigation including D&O and professional liability (including lawyers, accountants, architects, and engineers), unfair trade claims, corporate fiduciary, construction, complex tort and environmental cases, and bankruptcy. He also has extensive background experience in merger and acquisition litigation, mass product liability cases, antitrust matters, and employment litigation. In addition to handling trials and appeals before the federal and state courts of Massachusetts, Delaware, Connecticut, Maine, Rhode Island, New York, Pennsylvania, New Jersey, New Hampshire, Illinois, Ohio and North Carolina Bob has conducted administrative, arbitration, and mediation proceedings and supervised cases in several other states, including California, Texas, Florida and Minnesota.
Bob is also a certified mediator by the Delaware Superior Court and welcomes mediation referrals in New England and the mid-Atlantic states.
Bob has served as a faculty member for Massachusetts Continuing Legal Education programs and has authored a chapter entitled "Minority Liability for Breach of Fiduciary Duties in a Close Corporation" published in Business Torts within the Company, MCLE Books (1998).
Through a process of peer evaluation, Boston Magazine and New England Magazine have named Bob a "Super Lawyer" for the New England region for several years running. In addition, a national publication, Corporate Counsel Super Lawyer has designated Bob a "Corporate Counsel Super Lawyer" in business litigation for several years.
Education
Harvard Law School, JD, 1980
University of Delaware, BA, 1977; history
Admissions
Massachusetts
Maine
Delaware
United States District Courts: District of Massachusetts, District of Maine, District of Delaware
United States Courts of Appeal: First Circuit, Second Circuit, Third Circuit, Seventh Circuit
United States Supreme Court
Professional Activities
American Bar Association
Massachusetts Bar Association
Delaware Bar Association
Maine Bar Association
Representative Reported Cases
Berkshire-Cranwell Ltd. Partnership v. Tokio Marine & Nichido Fire Ins. Co., Ltd., 874 F.Supp.2d 41 (D.Mass. 2012)
Derderian v. Essex Ins. Co., 44 A.3d 122 (RI 2012)
Gartner, Inc. v. St. Paul Fire and Marine Ins. Co., 2010 WL 918075, (D.Conn. 2010) affirmed, Gartner, Inc. v. St. Paul Fire and Marine Ins. Co., 415 Fed.Appx. 282 (2d Cir. 2011)
Evanston Ins. Co. v. Layne Thomas Builders, Inc., 635 F.Supp.2d 348 (D.Del. 2009)
Sullivan v. Southland Life Ins. Co., 67 Mass.App.Ct. 439, 854 N.E.2d 138 (2006)
Veryfine Products, Inc. v. Phlo Corp., 124 F.Supp.2d 16 (D.Mass. 2000)
Hochberg v. Zoecon Corp. 421 Mass. 456, 657 N.E.2d 1263 (Mass. 1995)